SuperSmart TV – More News for Premium Users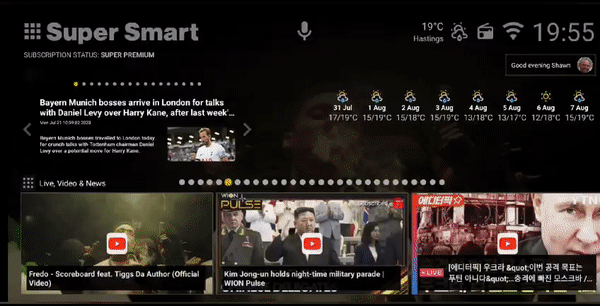 SuperSmart TV for Android Users: Fresh news articles every time you switch on your TV! Premium Users: We're adding even more news articles for you. Choose your category and start scrolling! Now with over 100 news articles across 8 categories and support for 30 languages.
Super Premium Subscribers can now view historical news articles by simply scrolling further. With news articles across 8 categories and in 30 languages we are a leading provider of news for subscribers.
Super Premium Subscribers, add a new geo location and you can causally switch between news articles from two different locations around the world!
Even our free subscribers get to see the News Headlines updated every day.
2023 ALREADY: NEW EPG, NEW SOCIAL MEDIA FEEDS, IMPROVED PERFORMANCE, BIGGER & BETTER
NEW EPG
We've added a new EPG for all users. This allows you to see all your Video and News articles in an easy to use Interface.

NEW SOCIAL MEDIA FEEDS

We're always looking at new ways to provide Social Media LIVE video feeds which are automatically synced to your Social Account. We'll update more information here in due course
VOICE PROMPT

Ask the Voice Prompt anything – It will always respond!
FACEBOOK LIVE VIDEO FEED
We're working on adding all your favourite Facebook LIVE Video Feeds
SPOT A BUG OR NOT HAPPY WITH SOMETHING – PLEASE REACH OUT. WE LISTEN & WE ACT!



Check back here as we update you further throughout August 2023